WELCOME
ABOUT BLAKE RICHTER PRODUCTIONS

Blake Richter Productions strives to create a high quality product at a very low price. Blake Richter specializes in video production, audio engineering, photography, and music compositions/arrangements. Blake Richter Productions has recorded audio and video for beIN Sports, The Faith Morgan Band, the Missouri State Chorale, Reed Academy Choirs, the Missouri Choral Artists, the Missouri State Beartones, Missouri State's A Cub Bella, the Missouri State Hibernotes, Mid-America Singers, the Boys Choir of Springfield, Springfield Chamber Chorus, Nixa Junior High and High School Choirs, and many more! Feel free to visit all of the pages on this website to see examples of Blake Richter Productions' work.
---
SUBSCRIBE
Powered by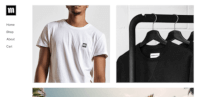 Create your own unique website with customizable templates.